What Daily Self-Care Looks Like for A Woman's Wellness Expert
DISCLAIMER
This blog does not intend to provide diagnosis... Read More

This blog does not intend to provide diagnosis, treatment, or medical advice. Read more. The content provided on this blog is for informational purposes only. Please consult with a physician or other healthcare professional regarding any medical or health-related diagnosis or treatment options. Information on this blog should not be considered as a substitute for advice from a healthcare professional. The claims made about specific products throughout this blog are not approved to diagnose, treat, cure, or prevent disease.
In this article: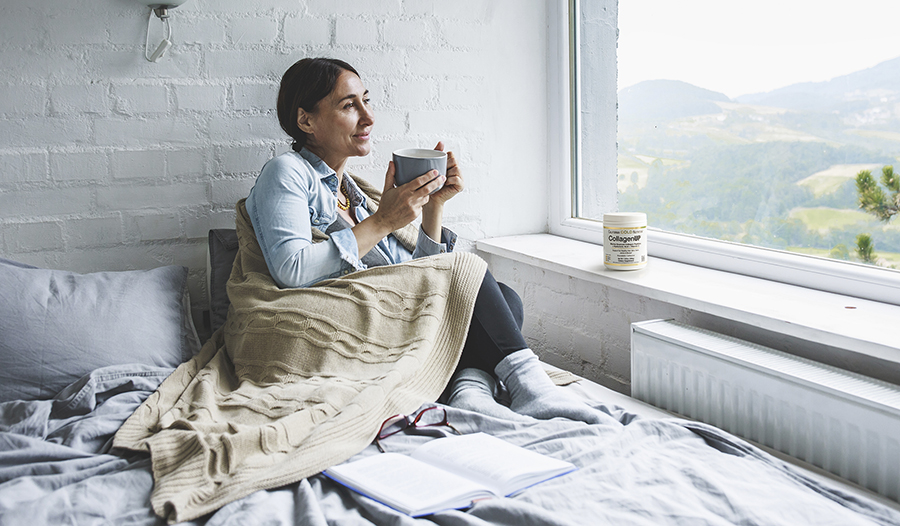 As the Midlife Whisperer™, my positive, ageless lifestyle centers around a whole foods plant-based diet, daily movement, and a growth mindset. My daily skincare and wellness routines incorporate natural products, spending time in nature, and mindful self-compassion. Here is what a typical day looks like for me.
My Early Morning: The 5 Tibetans, Green Tea, and Skincare
6:30 a.m.
I wake up naturally with the sun. The only exceptions are at the height of summer when the sun comes up before five or when I have an early flight to catch. Waking up with the sun favorably affects circadian rhythms. You feel more positive and alert, and it's easier to get out of bed.
Before I rise, I take a moment to set a positive intention for the day by completing the sentence, "Today I intend to…" with something like:
…help others and make a difference in the world.

…be guided by my intuition.

…be present and mindful.
6:35 a.m.
I apply a natural deodorant and get dressed. I work from home, so I tend to dress comfortably in jeans and sweaters or T-shirts. I used to wear a lot of black and gray, but now I like wearing colors because they can positively impact mood. For example, wearing burgundy can make you feel more grounded, orange is energizing, pink is linked to the release of the feel-good hormone dopamine, and blue can boost your intuition.
Next, I do oil pulling, an ancient Ayurvedic practice that helps remove bacteria and promotes healthy gums and teeth. Research shows it may help reduce gingivitis and may even help prevent cavities. Some practitioners believe it also helps reduce inflammation. It's done by swishing oil (sesame, sunflower, or coconut oil) for 5 to 20 minutes and then spitting the oil out.
While swishing, I do a ritual called the 5 Tibetans. It's an ancient yoga practice that consists of a series of five exercises that you do 21 times each. I've been doing this ritual for over a decade and find it boosts energy, strength, coordination, and overall vitality. Some people swear that it's the fountain of youth.
7:00 a.m.
Time for a little caffeine! I boil filtered water for tea and do my skincare routine. I drink green tea for its antioxidants and health benefits. Research suggests green tea may help lower your risk of heart disease and certain cancers, help reduce inflammation, and even help boost brain function and lower the risk of neurodegenerative diseases. A couple of times a week I may have a cup of mushroom coffee or Chai tea instead of green tea. I use a coffee press or stainless steel tea infuser for brewing.
My skincare routine is simple but effective. I use natural anti-aging products including cleanser, toner, serum, moisturizer, and rejuvenating eye cream. I use a rose quartz facial roller to stimulate blood flow, depuff my face, and brighten my skin.
If I'm shooting a video or have an important meeting or a TV appearance, I put on natural makeup. Again, I keep it simple – bb cream, concealer, eye shadow, and mascara. I wear a tinted lip balm all the time, both on and off camera.
Workday, Breakfast, and Lunch
7:15 a.m.
I grab my green tea and head for my home office. Before starting work I set up my essential oil diffuser. I use a variety of essential oils depending on my mood and the type of work I'm doing. I may use peppermint or citrus oil to enhance focus and feel energized or lavender if I want to feel calm and relaxed. To stay hydrated, I keep a filled water bottle at my desk and remember to drink all day long.
9:30 a.m.
To maximize my productivity and energy, I work in 1- to 2-hour blocks. So by 9:30 a.m., it's usually time for a break and breakfast! Most mornings I have a green smoothie and gluten-free bread with organic peanut or mixed nut butter. Green smoothies are delicious and a wonderful, fast way to consume several servings of fruits and veggies. I aim for 8 to 10 servings a day.
My fiancée is a master gardener who built us a greenhouse, so we have fresh kale for most of the year even though we live in Vermont. My green smoothie for two consists of kale, a banana, berries, vegan protein powder or collagen protein, and cinnamon, which may help stabilize blood sugar. I often throw in superfoods like cacao powder, chia or hemp seeds, goji berries, or spirulina, for a nutrition boost.
I was diagnosed with Hashimoto's disease, an autoimmune condition that impacts the thyroid gland, many years ago, so I stick to a gluten-free diet. Preliminary research suggests avoiding gluten may help alleviate some symptoms of Hashimoto's and reduce inflammation, though more research—especially in those who do not also have celiac disease—is needed to know for sure. I find it's easy to eat this way because there are so many great gluten-free products available, such as bread, pasta, and crackers.
After breakfast, I take my morning supplements, which include vitamin D (so important especially in the winter), a multi-made for women over 50, a curcumin complex (it's a powerful anti-inflammatory and antioxidant), and a probiotic. If I feel a cold or other virus coming on, I take olive tree leaf extract and a supplement that supports wellness.
1:00 p.m.
For lunch, I have a large salad that contains a wide array of vegetables, such as carrots, red cabbage, radishes, cauliflower, peppers, zucchini, winter squash, seaweed, and olives—I like to eat the rainbow.
The base is usually greens from the garden, like kale, swiss chard, or collards. I chop up the greens then add a little olive oil, vinegar or lemon juice, and sea salt, and literally massage the kale with my hands until it is tender and dark in color. For protein, I add tofu, canned beans (black beans and chickpeas are my favorites), or tinned fish (tuna, salmon, or sardines). I toss with an organic salad dressing and top it all with nuts or seeds.
After lunch, I take a long walk with my border collie, Rosie. By mid-afternoon, we both need to get out of the house. I'm blessed to live on a beautiful island that's home to deer, foxes, and numerous birds, so our walk is always an adventure—especially for Rosie who loves to chase squirrels.
4:00 p.m.
In the afternoon I often have a cup of herbal tea, especially in the wintertime. I don't drink any caffeine afternoon because it can interfere with sleep.
Evening Self-care, Yoga, Dinner, and Wind Down
5:30 p.m.
Shower time!!! This is one of my favorite parts of the day and serves as a bridge from work to relaxation or play. I'm blessed to have a steam shower and find it has become my favorite self-care sanctuary.
Over the past few years, I have eliminated synthetic chemicals from my self-care and cleaning products. I use a natural shampoo and conditioner made for silver, curly hair, and all-natural soaps—goat's milk is my favorite. I use a loofah or body sponge to exfoliate and a pumice stone for my feet. On the weekend, I treat myself to a long, hot soak in my huge, red bathtub. I spike it with a therapeutic bath bomb, which is so much fun and smells terrific.
After my bath or shower, I moisturize my body with a mixture of shea butter and relaxing essential oils. I use a toner, night serum, eye cream, and night moisturizer on my face. I find that if I don't do my nightly skincare routine right after the shower it doesn't happen.
6:00 p.m.
I practice yoga either on my own or I take a zoom class.
7:00 p.m.
Dinner time. In my 30s and 40s, I was a celebrity chef and made complicated meals almost every night, which was exhausting. These days I keep dinner light and simple. I may have raw, cut-up veggies with hummus and a veggie burger or a simple vegetarian stir-fry with quinoa or brown rice.
I also love gluten-free chickpea or lentil pasta because it's high in both protein and fiber. I toss it with lightly sauteed veggies and pesto.
My evening supplements include a calcium magnesium complex, curcumin, and a mushroom complex.
9:00 to 10:00 p.m.
Bedtime. Sleep is a huge priority for me and key to feeling good. An hour before bed I turn off all screens. To wind down I read, journal, or meditate.
After a good night's sleep, I am energized and ready to start my routine all over again the next day!