Health Benefits of Different Nuts and Seeds
DISCLAIMER
This blog has not been approved by your local health department and is not intended to provide diagnosis, treatment, or medical advice. Read More

This blog has not been approved by your local health department and is not intended to provide diagnosis, treatment, or medical advice. The content provided on this blog is for informational purposes only. Please consult with a physician or other healthcare professional regarding any medical or health-related diagnosis or treatment options. Information on this blog should not be considered as a substitute for advice from a healthcare professional. The claims made about specific products throughout this blog are not approved to diagnose, treat, cure, or prevent disease.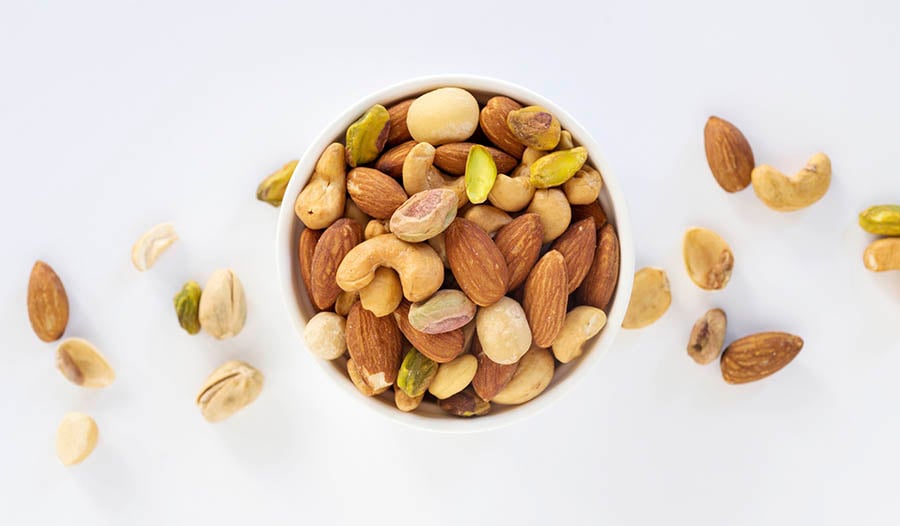 Eating healthy nuts and seeds is highly beneficial. For those who want to enjoy an abundance of flavors and health benefits, it's important to incorporate different varieties into a diet. Research shows that the health benefits of nuts and seeds play a vital role in disease prevention. Fortunately, there are ample varieties available.
Pumpkin seeds
Pumpkin seeds are also called pepitas. They are flat, dark-green seeds with a subtle flavor. These nutrient-rich seeds contain powerful zinc, manganese, antioxidant, copper and plant compounds. Research has shown that zinc may contribute to greater prostate health. Furthermore, pumpkin seeds could provide stress relief caused by certain symptoms of diabetes. Abundant in vitamins, minerals and protein, pumpkin seeds have many health benefits.
Almonds
In addition to being a wonderful snack, almonds are full of healthy nutrients. This protein-rich snack also contains antioxidants, magnesium, calcium and vitamin E. Research has shown that almonds help contribute to the removal of oxidative damage in the body. Almonds are also high in monounsaturated fat. Contrary to common belief, they are actually seeds, not nuts.
Pistachios
Green pistachios are powerhouses packed with ample nutrients and proteins. They contain healthy fiber, lean protein, manganese, copper and phytosterols. Research has determined that high cholesterol can be better controlled by eating pistachios in the place of certain meats. Therefore, pistachios are a wonderful alternative to fatty snacks.
Walnuts
These yummy snacks are rich in heart health and provide a nutritious dietary boost. Walnuts are abundant in powerful antioxidants, omega-3 fatty acid, fiber and protein. They are also rich in phosphorus and magnesium. Walnuts also offer abundant sources of molybdenum, copper, biotin and manganese. According to some studies, walnuts are beneficial in providing relief from chronic diseases. Walnuts are also low in carbohydrates. Therefore, a small number of walnuts daily can help to promote good health.
Pecans
Pecans are versatile and edible nuts are supplied with abundant amounts of vitamins and minerals. These include manganese and oleic acid, which promotes heart health. Furthermore, research has shown that pecans can help to boost the immune system, reduce cholesterol and lower heart disease. Pecans also contain healthy fats, beneficial iron, selenium and potassium. Since a small amount of pecans provides most of the recommended daily fiber intake, they are great for dieters. They are also abundant in age-defying antioxidants and offer many uses and health benefits.
Brazil Nuts
Brazil nuts not only provide the body with powerful nutrients, but they also supply an abundant source of organic selenium. In fact, they are the primary food source of selenium worldwide. Research has shown that organic selenium may contribute to cancer prevention. Other beneficial nutrients are thiamine, protein, minerals and fiber, which aids in weight loss, boosts immunity and enhances digestive health. Brazil nuts can be eaten blanched or raw.
Flaxseeds
Flaxseeds are rich in omega-3 fatty acids, minerals, vitamins, fiber and healthy protein. Since studies have shown that flaxseeds can help to promote regular bowel movements, prevent cancer and lower cholesterol, they are healthy in many ways. Flaxseeds also come in yellow, dark brown or golden varieties. They are flat in shape and have a nutty, sweet taste. The high fiber in flaxseeds helps with weight loss and appetite suppression.
Sunflower seeds
Sunflowers provide antioxidant-rich seeds that have ample phytosterol levels. These heart-healthy snacks also contain calcium, niacin, protein, copper, selenium, magnesium and fiber. Since sunflower seeds provide great flavor with low calories, they are used in a variety of meals. Sunflower seeds can be shelled or unshelled. They are also a great source of vitamin E.
Fenugreek seeds
Research has shown that taking fenugreek seed may help treat gastric ulcers, relieve irritated skin and lower cholesterol. The seeds are also abundant in amino acids, fiber, vitamin A, vitamin C, iron and alkaloids.
Grape Seed
Grape seeds are antioxidant powerhouses. They also contain OPCs, which help with the destruction of free radicals. OPCs are known as oligomeric proanthocyanidin complexes.
Black Seed
This chemically diverse seed contains powerful amino acids, proteins, minerals, fiber, potassium and sodium. The black seed is spicy and exudes a powerful aroma. Research has shown that black seed is known to promote vitality and support the liver and kidneys.
Sesame seeds
Sesame seeds are rich in B vitamins. This vitamin is vital for the productivity of the metabolism. Sesame seeds are also comprised of a wealth of healthy minerals, including selenium, iron, and phosphorus. These tiny seeds are known for their nutty taste and various colors.
Chia seeds
Antioxidant-rich chia seeds are loaded with vitamins and minerals that are beneficial for brain health. According to some studies, chia seeds have also been linked to a reduction in high blood pressure and cardiovascular risks. Chia seeds, which are tiny and oval-shaped, contain plentiful amounts of omega-3 fatty acids. They are also highly absorbing.
Hemp Seeds
Highly nutritious hemp seeds offer an abundance of essential amino acids. Furthermore, they are a healthy option for plant-based nutrition because they have a high concentration of omega-3 fatty acids. These essential fats are known to help reduce inflammation, boost memory, lower cholesterol and stabilize blood pressure. Hemp seeds are also comprised of healthy protein, iron and fiber.
Cumin Seeds
Cumin provides an abundant source of calcium, iron, protein, thiamine, thymol, magnesium and vitamin B6. It is also an excellent source of minerals such as potassium and zinc. According to some studies, cumin aids in the treatment of skin issues and proper digestion.