Is Dried Fruit A Junk Food? Here Are 6 Healthier Ways to Eat It
DISCLAIMER
This blog does not intend to provide diagnosis... Read More

This blog does not intend to provide diagnosis, treatment, or medical advice. Read more. The content provided on this blog is for informational purposes only. Please consult with a physician or other healthcare professional regarding any medical or health-related diagnosis or treatment options. Information on this blog should not be considered as a substitute for advice from a healthcare professional. The claims made about specific products throughout this blog are not approved to diagnose, treat, cure, or prevent disease.
In this article: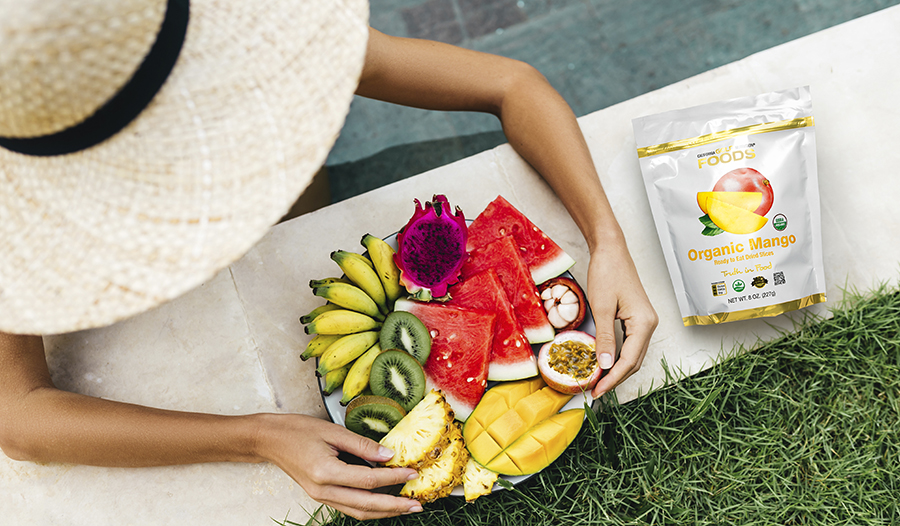 Our grocery stores and online shops are filled with many dried fruit options: raisins, dried mango, dried cranberries, dried figs, apricots, and more. Should we add dried fruit to our diet as a healthy source of fruit? Or, is it a source of excess sugar? Let's find out, and learn how to incorporate dried fruit into our diet in the healthiest way.
Eat Dried Fruit in Moderation
Dried fruit is fresh fruit that has been dehydrated to preserve the fruit. When this happens, the water content of the fruit shrinks down to 20% moisture. The water content is greatly removed, so if we are not careful, we can easily consume excess quantities of sugar due to the small size and density.
For example, one small box (1.5 ounces) of raisins contains 28 grams of sugar. While this is natural fruit sugar, we must stay mindful. It is easier to consume smaller size foods such as dried fruit in excessive quantities. So, if you would like to stay on a balanced and healthy diet, moderation is key. Avoid mindlessly snacking by always placing the dried fruit on a plate to refocus your attention on your eating. Or, try portioning the dried fruit into smaller containers or bags. Lastly, you can try to take breaks between bites to slow down and enjoy your food.
How Much Dried Fruit is Too Much?
The United States Department of Agriculture Dietary Guidelines for Americans recommends about 2 cups of fruit per day for the average adult. The USDA states that one 1/2-cup serving of dried fruit is equal to a 1-cup serving of fruit for the day. You can measure this quantity in a measuring cup to see what this looks like on your plate. If you are diabetic, speak with your doctor or registered dietitian about the best serving size for you. Fruit serving recommendations may vary for those with blood sugar irregularities.
Health Benefits of Dried Fruit
Overall, dried fruits are not junk food. Research continues to show that higher fruit consumption is linked to a lower body mass index. Perhaps this is partly due to the fiber content of dried fruits.
Raisins and other dried fruits provide a source of prebiotic fiber which helps the intestinal tract produce healthy bacteria. In addition, raisins are a good source of iron. Research shows that dried fruit such as raisins may have better antioxidant absorption in the body compared to fresh fruit. These antioxidants may also support heart health. If you would like to maximize your antioxidant intake, dried goji berries contain some of the highest levels of antioxidants compared to other dried fruits.
There are many potential health benefits of dried fruit, and the fruit can be used in many diets to offer a nutritious snack or healthy recipe addition.
6 Healthier Ways to Eat Dried Fruit
1. Swap Candy for Dried Fruit
This is my favorite way to add color and variety to kid lunches! Instead of packing gummy-type candy snacks, pack dried fruit. Or, maybe you have a sweet tooth for fruity candies. Try swapping that out for some dried fruit. Instead of movie theater candy, bring a bag of dried fruit! There are so many fun dried fruit options these days that it does not have to be boring. Don't like raisins? Try some dried mixed berries or dried pineapple. Explore your options, and try new fruits to see what may help you limit candies and processed sugars.
2. Top Oatmeal with Dried Fruit for An Antioxidant Boost
Perhaps you have run out of fresh berries for your morning oatmeal. Keep a bag of dried berries on hand for these times! The dried fruit helps add natural sweetness to the oatmeal and rehydrates while you cook it in the oatmeal. For maximum flavor, try making overnight oats. This simply means that you place all your oatmeal ingredients in a bowl the night before. Store in the refrigerator. Let all the flavors come together in the bowl overnight. Then, you can simply heat it in the microwave the next morning. This method will boost the flavor and texture of your oatmeal.
3. Mix into Salads for Variety and Nutrition
Tired of the same old salad? Sometimes you just need a new ingredient! Try some dried cranberries, dried cherries, chopped dried apricots or figs, or even dried blueberries. A popular combination is to add some goat or feta cheese with your dried fruit in the salad.
4. Fuel for Exercise
Do you practice any endurance sports, or need a little carbohydrate fuel before, during, or after exercise? Dried fruit is primarily made up of carbohydrates, some of which is fiber. Carbohydrate is what provides an immediate source of fuel for exercise. Keep dried fruit in a gym bag for when you need a little energy boost. Or, pack it in your backpack for a long hike.
5. Pack for Road Trips
Make your own healthy trail mix by combining your choice of any seed or nut, dried fruit of choice, and some dried coconut or dark chocolate! This makes for a nutritious snack when traveling, and helps to avoid junk food snacks at convenience stores. It is also more budget-friendly to plan ahead. Dried fruit does not need to be refrigerated, so it is the perfect travel snack. Dried fruit also comes in small packages so it is easy to pack for airplane travel as well. There are many dried fruit snack varieties, some of which come blended with nuts to form snack bars and some that come in dried fruit and nut clusters.
6. Add Dried Fruit as An Appetizer
Dried fruits add color, and an unexpected flavor twist to traditional appetizers. Not only does it offer a nutritious boost to an appetizer recipe, but it requires low effort to add in a little dried fruit for a get-together.
Here are some dried fruit appetizer ideas:
Add dried fruit to a charcuterie board.

Stuff larger dried fruit like figs or apricots with goat cheese, mascarpone cheese, or cream cheese.

Wrap dried fruit in ham or bacon and bake lightly or serve cold.

Create skewers with cubes of cheese, dried fruit, and cubes of whole grain bread or meat.

Top whole-grain crackers with spreadable cheese and dried fruit.

Bake brie cheese and top with a little jam and lots of dried fruit varieties. Serve with whole-grain

crackers

or toasts.

During the holidays, use dried fruit as garnish and to add color to a dish when serving. The dried fruit looks like colorful little gems and adds a nice presentation as well as fun flavor addition.
Tips for Buying Dried Fruit
Avoid dried fruit with added sugar. Read the ingredient list and look for forms of sugar added to this list. Dried cranberries are the most likely to have sugar added to balance the natural sour flavors.

If you are sensitive to sulfites, you may want to look to purchase dried fruit without sulfites added. Sulfites are added to help preserve the fruit and are generally considered safe. However, dried fruits naturally contain sulfites even if it is not added in processing. So, if you are very sensitive, you may need to avoid dried fruit completely.

Look for small or individually packaged dried fruits for help in portion control.

Organic options exist if this is your preference. However, you may need to shop online for these as there are generally fewer options in local grocery stores.
Overall, if you have unique preferences for your dried fruit, you may want to shop online to find exactly what you need to make eating easy. Research shows that dried fruit improves the quality of the diet in recommended quantities. Lastly, dried fruit can offer color and variety in eating, supply plenty of nutritious benefits, and serve as a healthy, portable snack when chosen mindfully.
References:
Uga.edu. Accessed June 30, 2021. https://nchfp.uga.edu/publications/uga/uga_dry_fruit.pdf

FoodData Central. Accessed June 30, 2021. https://fdc.nal.usda.gov/fdc-app.html#/food-details/1102640/nutrients

Dietary Guidelines for Americans, 2020-2025. :164.

Lin B-H, Morrison R. Higher fruit consumption linked with lower body mass index. Food Rev. 2002;25:28-32.

Bell SJ. A Review of Dietary Fiber and Health: Focus on Raisins. Journal of Medicinal Food. 2011;14(9):877-883. doi:10.1089/jmf.2010.0215

Painter JE, Waters AR. A Review of the Health Benefits of Raisins. Journal of Food Science. 2013;78(s1):ii-iii. doi:10.1111/1750-3841.12139

Jeszka-Skowron M, Zgoła-Grześkowiak A, Stanisz E, Waśkiewicz A. Potential health benefits and quality of dried fruits: Goji fruits, cranberries and raisins. Food Chemistry. 2017;221:228-236. doi:10.1016/j.foodchem.2016.10.049

Olmo-Cunillera A, Escobar-Avello D, Pérez AJ, Marhuenda-Muñoz M, Lamuela-Raventós RM, Vallverdú-Queralt A. Is Eating Raisins Healthy? Nutrients. 2020;12(1):54. doi:10.3390/nu12010054