Is Bakuchiol a Good Alternative To Retinol?
DISCLAIMER
This blog has not been approved by your local health department and is not intended to provide diagnosis, treatment, or medical advice. Read More

This blog has not been approved by your local health department and is not intended to provide diagnosis, treatment, or medical advice. The content provided on this blog is for informational purposes only. Please consult with a physician or other healthcare professional regarding any medical or health-related diagnosis or treatment options. Information on this blog should not be considered as a substitute for advice from a healthcare professional. The claims made about specific products throughout this blog are not approved to diagnose, treat, cure, or prevent disease.
In this article: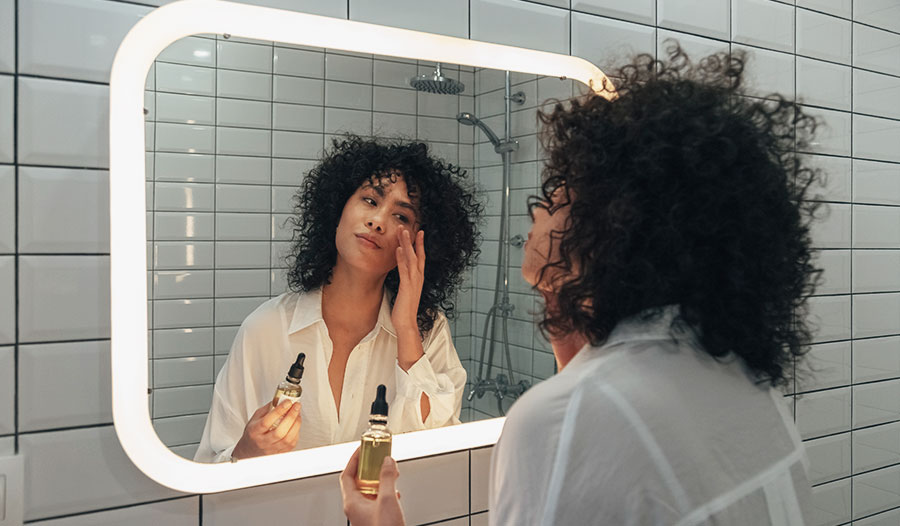 A natural retinol alternative with all of the benefits of retinol, but none of the pesky side effects that make them tricky to use? You're probably thinking, "Tell me more!"
If you're a seasoned pro when it comes to skincare, you probably know all about topical retinoids, long hailed by dermatologists and beauty gurus alike as holy grail skincare ingredients in the fight against hyperpigmentation, acne, and signs of aging. These agents can be irritating to the skin, however, especially when improperly used or in those of us with sensitive skin. That's why experts are getting excited about a relative newcomer to the skincare game, bakuchiol, a plant-based antioxidant currently having a moment in the dermatology and beauty world for its ability to provide similar results to retinol without the unwanted side effects.
Read on to learn all about bakuchiol, including how it's different from retinol, what it's used for, and some products you can introduce into your routine.
Retinols vs Bakuchiol: How Are They Different?
As we age, our skin loses elasticity, developing wrinkles, uneven texture, and pigmentary irregularities. As much as we might want to, we cannot stop the intrinsic aging process. That being said, topical retinoids have been used for many years to combat premature aging caused by ultraviolet radiation from long-term sun exposure. Topical retinoids, known to induce collagen production and increase cell turnover, have decades of strong, sound data behind them to support their use as anti-aging, anti-acne staples, making them among the most studied skincare ingredients in existence.
So, if retinoids are so great, why are we looking for alternatives? To answer this, we must start with a brief science lesson, so bear with me. Retinoids are a family of vitamin A derivatives that can be converted to different forms via a complex metabolic pathway. I'll spare you the nitty-gritty details, but it helps to understand that active and inactive forms of retinol exist, and with that comes variability in potency. Retinoid acid represents the active metabolite of retinol used in prescription topical retinoid medications like tretinoin–highly effective for acne and photoaging, but with well-known side effects such as redness, peeling, and a burning/stinging sensation. Retinol, used widely for its anti-aging benefits, is less effective for acne but is highly accessible due to its availability over-the-counter. While gentler than retinoic acid, retinols are still associated with some degree of irritation.
Bakuchiol is an antioxidant found in the seeds and leaves of the plant Psoralea Corylifolia. While technically not a novel discovery, as it has been used for centuries in traditional ayurvedic medicine, its popularity in modern skincare is pretty new. It has no structural resemblance to retinoids but has been found to have retinol-like functionality in several recent studies. These studies observed improvement in the health of photodamaged skin in study participants over time, without the skin irritation usually seen in retinols. This is great news for people with sensitive skin or underlying conditions like eczema, who often have trouble integrating retinol into their routine. As an added bonus, bakuchiol is plant-based and offers an appealing option to those who shop for products that are vegan and cruelty-free.
Benefits of Bakuchiol
Studies have shown that bakuchiol, which is gentle enough for twice-daily use, can improve the appearance of fine lines and wrinkles, hyperpigmentation, and overall increase the firmness and elasticity of the skin. One randomized, double-blind study published in the British Journal of Dermatology found that, after 12 weeks, bakuchiol was comparable to retinol in reducing wrinkle depth and decreasing pigment intensity, with significantly less scaling reported by those randomized to the bakuchiol study group.
Bakuchiol is also thought to have anti-inflammatory and anti-bacterial effects, raising the possibility of a new therapeutic option for acne. This was investigated in one early study that examined the safety, tolerability, and efficacy of a novel topical bakuchiol preparation in the treatment of acne and acne-associated hyperpigmentation. Though small, the study showed effectiveness in treating acne and reduction in acne-associated post-inflammatory hyperpigmentation most striking in participants with darker skin tones.
Across the board, studies are fairly consistent in demonstrating less redness, stinging, scaling, and photosensitivity associated with bakuchiol use when compared to retinols. Less irritation means bakuchiol is safe to combine with other active ingredients such as glycolic acid, lactic acid, vitamin C, and others without the same concern for adverse effects–great news for lovers of skincare who enjoy combining active ingredients.
Bakuchiol Product Recommendations
Here are some product recommendations that contain bakuchiol, if you'd like to give this ingredient a try:

This 100% vegan, cruelty-free, sulfate-free serum is ideal for dry skin, as it boasts a dual-phase formula that moisturizes as it rejuvenates the skin. Must be shaken well before use!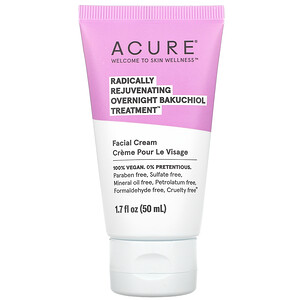 This vegan and cruelty-free overnight treatment combines bakuchiol with squalene, a moisturizing antioxidant, for a luxurious-feeling nighttime cream for the face and neck that layers well with other products—including retinols!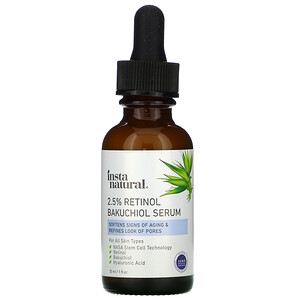 Didn't I say bakuchiol plays well with others? Here we see retinol and bakuchiol joining forces to fight against signs of aging in this cruelty-free serum that also contains hyaluronic acid and squalene to hydrate and soothe the skin from potential irritation.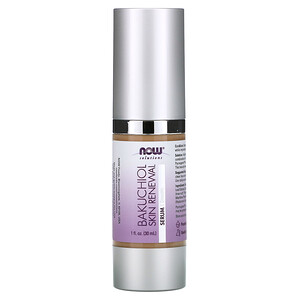 A little bit of this lightweight vegan and cruelty-free serum goes a long way—apply a thin layer to the face and neck and allow it to dry before layering with other products. I love that this also contains hyaluronic acid and vitamin C for added hydration and skin brightening.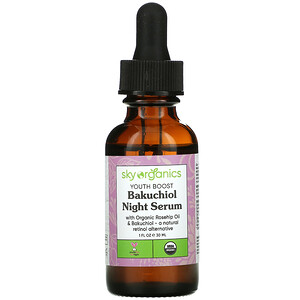 This dye-free, vegan, and cruelty-free serum is thicker and feels more like a luxurious face oil. It also contains rosehip oil and vitamin E oil, which makes this a great option for those with dry skin but may be too heavy for oily or acne-prone skin types.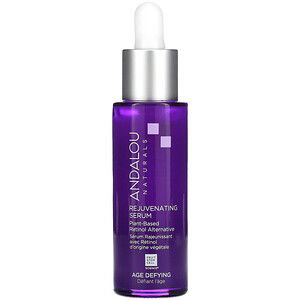 This popular serum has a pleasant aroma—it is also cruelty-free, vegan, and sure to leave you with glowing skin! It's safe to use both day and night.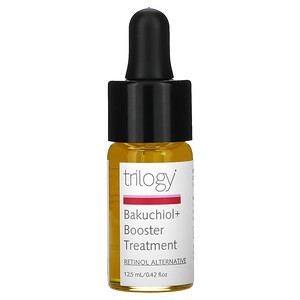 This serum combines bakuchiol with squalene to address fine lines in addition to dryness. It also contains essential oils and smells great, but for those prone to rashes, it's a good idea to patch test a small amount of fragrance-containing products on the inner arm prior to use!
Bottom Line About Bakuchiol
So, is bakuchiol the new retinol?
For those of us with sensitive skin who have trouble tolerating retinols, this could be a game-changer. But does it actually outperform retinol? Well, that's unclear. Are the results comparable? It certainly seems so, with the added benefit of less irritation. While there is reason to celebrate the vast potential of bakuchiol, particularly because of its ease of use, accessibility as an over-the-counter agent, and tolerability, you'd be hard-pressed to find anyone claiming it's more effective than retinols—it's simply too soon to tell, especially when bakuchiol is up against the decades of data behind topical retinoids.
For now, retinols remain the gold standard for the topical treatment of photoaging, but if you have sensitive skin, experience irritation with retinol, and are looking for an affordable option that does not require a trip to the dermatologist—bakuchiol may just be the alternative you've been looking for! When in doubt, however, don't hesitate to make an appointment with your friendly neighborhood dermatologist —after all, it's our job to help you navigate your individual, complex skin concerns and put those elusive skincare goals within reach.
References:
Chaudhuri RK, Bojanowski K. Bakuchiol: a retinol-like functional compound revealed by gene expression profiling and clinically proven to have anti-aging effects. Int J Cosmet Sci 2014;36(3):221-30. doi: 10.1111/ics.12117. Epub 2014 Mar 6

Dhaliwal S, Rybak I, Ellis SR, Notay M, Trivedi M, Burney W, Vaughn AR, Nguyen M, Reiter P, Bosanac S, Yan H, Foolad N, Sivamani RK.

Prospective, randomized, double-blind assessment of topical bakuchiol and retinol for facial photoageing.

Br J Dermatol 2019;180(2):289-296. doi: 10.1111/bjd.16918. Epub 2018 Sep 21

Gunt H, Draelos ZD, Levy SB. Topical effects of a natural retinol alternative: A clinical assessment of bakuchiol on sensitive skin. J Am Acad Dermatol 2020; 83(6) AB171

Mukherjee S, Date A, Patravale V, Korting HC, Roeder A, Weindl G. Retinoids in the treatment of skin aging: an overview of clinical efficacy and safety.

Clin Interv Aging

2006;1(4):327-348. doi:10.2147/ciia.2006.1.4.327

Shalita AR, Geen SC, Lee W, EY. A clinical study evaluating the dermatologic benefits of topical bakuchiol (UP256) cream on facial acne. J Am Acad Dermatol 2011;

64(2) AB19